I first came across Michaël Zancan through DeviantArt. One of his works was awarded a Daily Deviation and curious, I checked out his profile. Needless to say, I absolutely fell in love with his paintings.


I am sure of one thing anyway: painting is saving my soul.
Born in a town called Agen in the southwest of France in 1976, Michaël Zancan wasn't originally a painter. During his teen years he was very much into programming. At the age of eighteen he dabbled in street art, experimenting on various painting techniques like airbrushing. He gradually moved from painting on walls to paper, and it wasn't until he was twenty two did he start to get into drawing, thanks to various projects for his engineering school's gazette, party posters and t-shirts.
Later on, he discovered oils and that was when he felt that he was really painting. In one of his comments to his site's visitor, Michaël says that in hindsight, he thinks that he didn't have the maturity to paint well back in his early twenties. Initially, he struggled with his painting, playing around with a cheap box of primary colors until it all started to come naturally. He tried every possible technique until he found a style that he was comfortable with. However, he considers that there is still a lot to be learned, and that painting is a lifetime, long learning experience.

The Book
...it takes time to study, observe and assimilate the theory that will help you guide your creative energy towards the idea you're aiming at. It's even a daily, never-ending learning task. In the meantime it requires you to free up yourself and let the gestures go, even imperfect; that takes time to, and is more related to the knowledge of yourself...

Home and the Fairies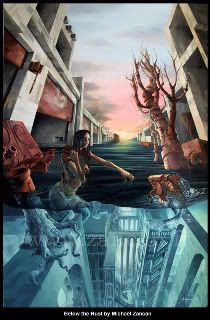 Below the rust
For Michaël, computers definitely allows artists to create faster and brings out many possibilities, especially for illustrators who have tight deadlines. Though he uses technology (he has a small web design company in Bordeaux), he finds that traditional medium is more fulfilling, as it involves the entirety of the artist. "To tame it, you have to stay humble and true."
One of his digital works, "Tears for Joy in the Garden of Giants" created for CGTalk's 'spectacular' challenge in December 2005 is currently
in the process of being painted into canvas
.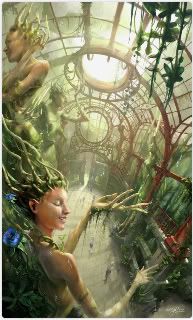 Tears for Joy in the Garden of Giants
More than one site visitor has claimed (myself included) that his paintings have stories and serve as an inspiration. "Even though they are usually built upon a story of my own, when I spread an image to the world I try to make it as free for interpretation as possible, giving only clues, or surreal words that encourage the imagination.
"Inspiring might be the most rewarding adjective to welcome my work."
I continue to be in awe of Michaël's works. He creates worlds that are fantastic and majestic, yet retaining a touch of reality that viewers recognize and appreciate. The worlds and its people touch a whimsical side to those who see it, inviting them for a closer inspection.
Visit his
gallery
at his
website
or over at
his DeviantArt page
.
Credits: All images © Michaël Zancan
Source:
Michaël Zancan
Many thanks to Michaël for allowing me to use his photos & site content, as well as for the corrections :)